"Pregnancy is the best blessings for mother and her family. This is the precious journey for growing baby and mother."
Pregnancy is a highly demanding period nutritionally. A Healthy diet plan during pregnancy essential for take care of the mother and the growing baby (fetus).
Where extra food is required to take care of the baby's weight, followed by additional nutrition, is needed to produce milk. The nutrients are; increase in total calories by 300 kcal, an increase in proteins by 15 g, and an increase in fat by 10g compared to regular days.
Other nutrients required are iodine, vitamin A, B, and C. Additional intake of nutritious food should result in a weight gain of 10-12 kg during Pregnancy. Fiber-rich foods like whole grains.
Pulses and vegetables, along with 8-10 glasses of water, should be taken to avoid constipation.
After the baby is born, Calories are further increased to 500 kcal, proteins by 20 g, and fat by 20 g for lactation. Other nutrients are folic acid, which reduces the risk of congenital malformations and helps growing baby weight gain. Iron and calcium are also required in excess for blood and bone formation.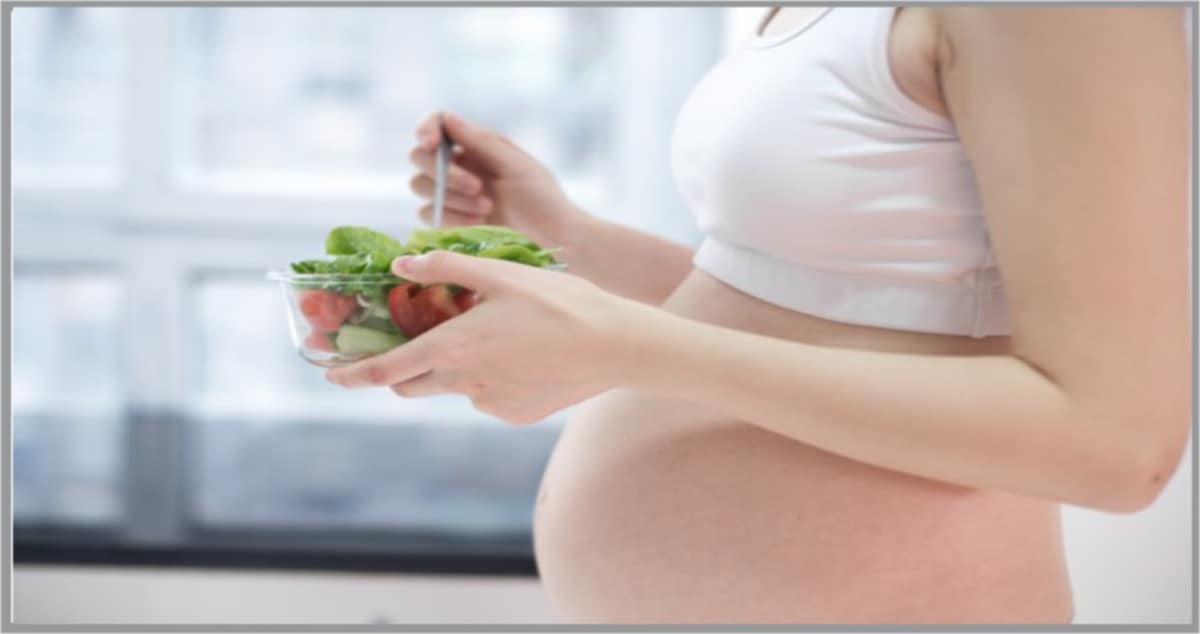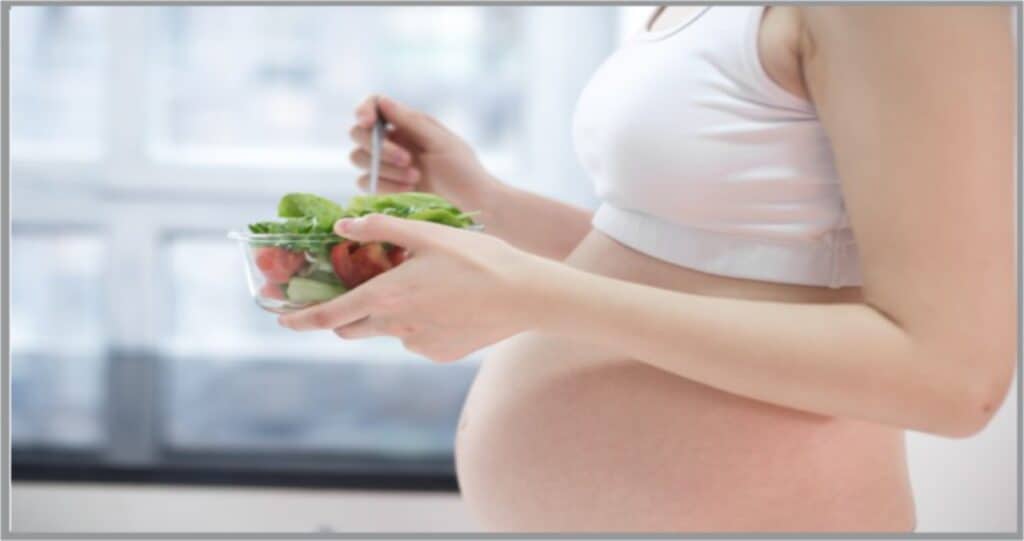 All pregnant women should support their diet with prenatal vitamins. We recommend prenatal multivitamin from the brand SMARTYPANTS, especially for pregnant women. It is recommended for all women, whether they are carrying singles, twins or triplets. BUY NOW 👇
SmartyPants Prenatal Formula
Folate for fatal development
Vitamin D3 for Immunity
Vitamin B12 for energy
Vitamin K for bones
A heathy diet plan during pregnancy
Early Morning Tea
1 cup tea with 1-2 teaspoons of sugar
Milk 200 ml (1 glass)
Bread slices (2 large) or porridge (1 bowl), or idli(2 medium) or chappati (2 medium)
Cheese 30 g (1 cube)/egg 1/sprouts 25 g (1 bowl)
Lunch
Fresh salad
Chapatti 4 medium (100 g), preferably wheat mixed with Bengal gram 4:1 or wheat mixed with soya flour 4:1 or rice (100 g) 4 Karachi (preferably steamed with pulses or green vegetables) Pulse/gram (25 g) 1 Katori or meat or fish or chicken (90 g edible portion)
Curd 125 g (1 bowl)
Green vegetables 250 g (2 bowls)
Cooking oil 10 g (2 teaspoons)
Evening Tea
Milk 200 ml (1 glass)
Cheese sandwich (1 small) or poha(1 bowl)

upma (1 bowl) or vada (1 large)
Dinner
Take a light dinner like indian khichdi or same as lunch menu but take less items.
Bedtime
Milk: 200 ml (1 glass)
Fruits
1-2 servings everyday, Taking seasonal fruits and avoid pineapple or Papaya.
Carbohydrates (g) 325
Proteins (g) 90
Fats (g) 60
Calories: 2200
For gestational diabetics, diet remains the same except that sugar is omitted. For hypertension, salt is restricted.
A few other articles that you might be interested in:
Iron deficiency leads to anemia; Iron is required for hemoglobin, mental functions, and Body defense.
Iron helps with inadequate birth weight. Green leafy vegetables, dry fruits, legumes, roasted Bengal gram, eggs, meat, fish, and poultry are rich Iron sources.
Citrus fruits like oranges, grapes, amla increase iron absorption Tea reduce iron absorption, so it should not be taken during a meal.
I also wrote a article on: Severe Anemia In Pregnancy also you can read.
Eat foods rich in folic acid
Folic acid is required from conception to full pregnancy.
Folic acid supplements are recommended.
Folic acid increases fetus weight and reduces congenital abnormalities.
Green leafy vegetables, legumes, nuts, and the liver are good sources.
Calcium is needed for growth and development. Calcium is required more in children, Pregnancy, lactation, and the elderly.
Milk, curd, paneer, nuts, green leafy vegetables, whole pulses, and grains, especially ragi, are rich sources.
The nutrition requirements during lactation are higher than during Pregnancy, and the diet has to be increased further. In diet during Pregnancy: One glass of milk One serving of chapatti/rice during lunch and dinner.
One serving of fruit Add: Total fluid during the day 7-8 glasses.
Excess use of highly flavored, gas-producing foods like cabbage, radish, turnips, capsicums, onions, etc., should be avoided.
Make sure to eat only high nutritive food during Pregnancy .so you can be as healthy as possible.
To learn more, you can read :Nutrition Value of Food
Breast milk is a natural and perfect food for the newborn.
Colostrums are incredibly rich in anti-infective properties and transfers immunity to the baby, and breast feeding reduces the risk of infections.
Breast milk provides good quality proteins, fats, vitamins, calcium, and other minerals for the newborn, sufficient until four months. Weaning foods can be introduced along with breast milk to prevent malnutrition.
Here are a few more article you might help:
Do let me know in the comment box, how you keep yourself healthy during pregnancy? And if you also wanted to learn more about pregnancy care.
Don't forget to share this post!
Sharing is caring ❤