In old age, the knees become weak, and the joints start to ache, but the joints can be made strong with this knee exercise.
Knee flexion exercises strengthen the hamstrings at the back of the thigh. Using a rehab band is a great way to increase the resistance following a knee or thigh injury gradually.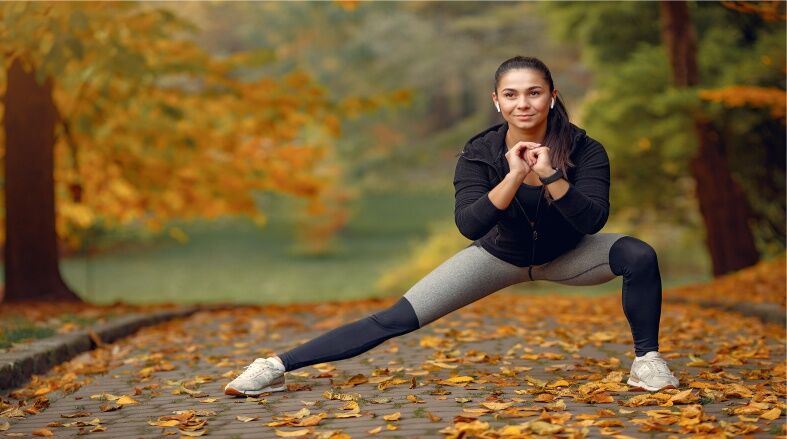 There are many causes of knee pain during flexion. Potential conditions include:
Patellofemoral syndrome, which causes a dull ache in the knee
Patellar tendonitis, which causes pain and burning below the knee
The following reasons can be behind the weak knees or pain in their joints in the elderly. like-
Due to Osteoarthritis
Damage to the cartilage between the joints
On sudden stress
Due to infection
To fracture or dislocate
Due to rupture of ligaments, etc.
To make knees strong, you need to strengthen the muscles, bones, and fluid around them. Practicing knee exercises daily makes your knees and the entire area around them strong. For this, you can do a Knee Extension Exercise. Let us know how to do Knee Extension Exercise Steps that strengthen the knees.
Knee extension exercise is very easy to do. For this, you sit on a chair.
Keeping your waist straight, put the entire weight of the feet equally on both soles.
Keep the soles firmly on the ground.
Now slowly spread your right leg forward completely.
When it spreads completely, keep it like that for 1-2 seconds and then slowly bring it down.
Repeat this process with the other leg as well.
Keep doing this exercise as slowly as possible, and after some time, you can also apply lightweight on the ankles.
Knee Extension Exercise Benefits:
Strengthens quad muscles
Increases knee flexibility
Knees can bear the weight of the body.
Reduces the risk of a knee injury while walking.
This information given here is not a substitute for medical advice. It is being given only for education.
I recommend you to read following posts that will help you: Exercise During Covid
THE BEST CHOICE for knee pain recovery and sports protection is NEENCA Professional Knee Brace. Shop Now… 👇
Professional Knee Brace, Knee Compression Sleeve
Patella Gel Pads & Side Stabilizers
Medical Grade Knee Pads for Running, Meniscus Tear, ACL, Arthritis, Joint Pain Relief
The calf muscle is very intricately related to the hamstring muscle and the back of the knee. Therefore, strengthening the calf muscle will benefit your hamstrings and provide support and stability for your knee.
Stand barefoot and wearing socks on a 2-inch board or aerobic step. Place the toes and balls of the feet on the board, with your heels on the floor. Make sure your body is balanced hold onto a support such as a wall or another stabilizing surface. Raise your toes high as much as you can and lower slowly. Do ten repetitions and 2-4 sets as needed.
The best variation of this exercise is to turn your toes inward and raise them vertically. This separates and strengthens the inner part of the calf muscles. Then try turning toes out and bring your heels too close together, and grow vertically. Again, this will isolate the outer portion of the calves.
Stand with your head, back, and hips on a wall, your feet about hip-width apart. Gently bend your knees, and slide down the wall until before reach a sitting position. Stay in this position for around 5 to 10 seconds, then gently come up. Repeat 5-10 times as needed.
It will be good to keep your abdominal muscles engaged and not allow your pelvis to drop below the knees. Also, avoid making the knees forward over your toes.
This quadriceps exercise will strengthen your knee and build stamina.
Are you not the gym type? Do you favor being in the water or outdoors? Fortunately, swimming is the best activity you can do to improve your bad knees.
Treading water, backstroke, front crawl, or just kicking laps with a flutter board will not only solidify the knee joint but also give you a cardio workout. Jogging in water or water aerobics are options you can try in a pool as well.
By strengthening the muscles around the knee, you'll be capable of relieving the chronic strain placed on your knee joint. With less stress on your knee, you'll be capable of boosting your chances to relieve pain and avoid more injury.
As with all of these things, action is the key. So it's important to make time in our busy schedules to improve our joints and bodies. Investing just 15 minutes a day can provide a great payoff for your quality of life down the road.
The word 'no pain, no gain' is outdated. It would be best if you never experienced sharp or shooting pain when engaging in the above exercises. If you do, change your position or consult your physical therapist.
Don't forget to share this guide with your network on Face book and LinkedIn!
Sharing is caring ❤